Drafting and Programming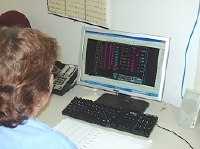 Control 7, Inc.
Project Managers can engineer and design a complete control panel to meet your needs. We also provide PLC programming services for Allen Bradley and G.E. systems. We have skilled AutoCAD draftsmen available that are able to design from scratch, edit marked up drawings, or provide As-Built drawing packages.
Harness and Cable Assembly and Subcontract Manufacturing Services

Control 7, Inc. Provides competitively priced cables and harnesses as well as procurement of components, and assembly for your contract manufacturing needs.

Engraving and Graphics
Control 7, Inc. is a provider of computer engraved nameplates. Whether your needs are simple legend plates, reverse engraved nameplates or complex graphics and mimics, we can provide it.

Additional services include, Onsite Wiring and Service Technicians, Enclosure Modifications, FAT staging, Project Management as well as Material Procurements Services.